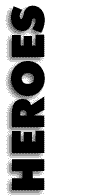 DAW AUNG SAN SUU KYI

(Born 1945)

(390Kb)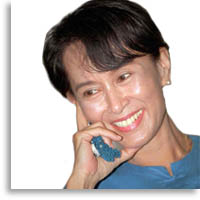 General U Aung Sun, a national leader in the struggle for independence from colonial rule for Burma, was assassinated in 1947. His daughter, Suu Kyi, was then two years old. Forty two years later, in 1989, Daw Aung San Suu Kyi was confronted by an army unit preparing to shoot her. She had become a popular leader of the struggle for democracy against the military regime which, in 1961 seized control of independent Burma (sometimes called Myanmar).

An army major prevented Suu Kyi's assassination, but three months later, she was placed without trial under house arrest by the State Law and Order Restoration Council. Amnesty International declared her a prisoner of conscience. The world outside began paying an increasing amount of attention to Daw Aung San Suu Kyi, and Myanmar.

Suu Kyi was educated in the capital Rangoon (now Yangon) until she was 15 years old. She studied politics in Delhi after her mother was appointed Burmese Ambassador to India. After further studies at Oxford University, she began a life of international scholarship and administrative work for the United Nations. She also married an English scholar, Dr. Michael Aris, and gave birth to two sons, Kim and Alexander.

In 1988, she returned to Burma. The country was in uproar with millions of its citizens protesting against their autocratic government. In the military crackdown that followed thousands were killed. Suu Kyi, calling for democratic government, was elected Secretary General of The National League for Democracy (NLD). She was promptly arrested but the NLD swept to victory in the first fair and open elections for decades. The military junta cracked down even harder, ignoring the election, imprisoning many NLD supporters and using many thousands of its political opponents as slave labour. They also retrospectively altered the law in order to keep Suu Kyi in detention for up to five years without charge or trial.

Suu Kyi, since then, has remained under house arrest; never ceasing to write and speak out on behalf of her people. In 1991, after being awarded the Rafto Human Rights Prize and the Human Rights Prize of the European Parliament, she was awarded the Nobel Peace Prize. The Prize was collected by her son Alexander. The $1.3 million prize money was used by Aung San Suu Kyi, whose own health is reported to be faltering, to establish a health and education trust in support of the Burmese people.